[alarm sounding softly, rapid soft sucker sounds approach, various machine noises]
SHELOB! WE GOT MORE VIEWS THAN NORMAL FROM LAST BLOG! Look at THAT!
Noted.
Apparently, that's a REALLY popular topic. Just like you said.
Alternative theory from data collected since March.
Yeah?
Viewers more often read only first two words of title before viewing. Time spent fits theory.
[splashing sound--] What were the firs--that would mean--OH, YOU ALL SHOULD BE ASHAMED OF YOURSELVES. [gill equivalent of giggling] YOU thought I was showing-- [incoherent gill noises, more splashing.]
Blog time again.
Wh--oh. [translates to ahem] Yeah, look at THIS scandalous picture . . .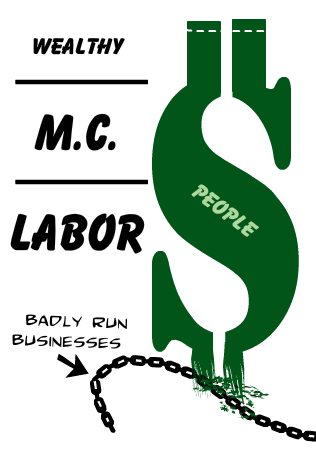 Herr D convinced me to do this one on heromachine.com.
I guess I did okay . . . Hairy Deewon.

I spent some time reading the complaints Shelob showed me about capitalism, government, big business, and economic disparity. I was particularly fascinated by the term 'outsourcing.' Let me define a term for ease.
"Wage multiplier" or WM, would be the constant to multiply the lowest salary/expected annual wages to equal the highest salary/expected annual wages within the same company/corporation.
Some identifiers of a well-run company besides the most obvious (extreme low turnover) is that it doesn't have a WM larger than 10. If the CEO of Asteroid Smelting, Ltd. is worth 100,000 acg/year, and any job in the company is worth less than 10,000 acg/year, then the company should hire someone else to handle it. Why wouldn't they? Badly-run businesses help ruin economies and generally lower everyone's standard of living. Obviously, there's a lot of flawed comparative valuation out there--this society pays some professional boxers more than certified nursing assistants, but this is about the outsourcing complaint.
Solution?
In cases where the highest-paid are in a horribly small minority, I offer the following solution:
CEO of Interplanetary Exhumation makes 91 million acg yearly, while the average of all ten demolitions experts makes 91,000 acg. With a WM of 1000, this company is obviously poorly structured. Obviously the demolitions experts are needed on site, so they can't be outsourced to Yurshoozsmellikekelpistan--but the country has a lower cost of living, on a ratio of 1:100 to IE's country.
In this example, IE is better off outsourcing the CEO, essentially lowering his salary to 910,000 acg, and returning IE to the category of a well-run company. Profits should rise fairl--
Geographical error, no locality found--
Leave it, Shelob! Down boy! [sudden disconnec-